Within the guest house
Massage
We have a massage room perched up on the roof top of the gym hall which allows total privacy and gives the feeling of being in a relaxing tree house. There are various massage therapists with different expertise/techniques who can come on appointment to treat you. The cost will vary according to the treatment. Any charges are to be paid to the therapist directly.
Yoga
We have a beautiful yoga hall you can use for your personal use outside of scheduled workshop timings. It is free of charge, if you are staying at our guesthouse.
Gym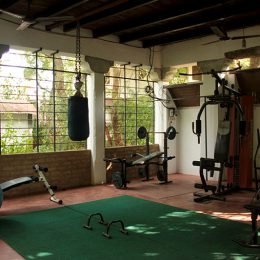 We have a well-equipped gym for your personal use, do request the key at the office. It is free of charge if you are staying in our guesthouse.
Tours
Kali offers to take you on a half day or full day tours to discover the hidden, off-the-beaten-track spots in the surrounding areas outside of Auroville. She can also take you to Pondy to visit the town in a way you would never have been able to on your own, discovering heritage buildings and glimpses into the authentic Pondicherry. (3 people minimum) Costs vary according to program. Call: 9443090114
Horse Caring and Communication
Mirrabelle can introduce you to her horses and allow you, or you and your child(ren), or your child alone; to have a first-hand experience in grooming and taking care of a horse.  Enjoy a real farm-life experience!
She also offers Body Language Courses (How to be effective using Bodylanguage); as well and Equine-Assisted Therapy for children.
Within Sharnga community
Inner Way Tai Chi School. You can contact them directly, by writing to them at taichi@auroville.org.in
Within Auroville
You will not have anything to "see" or to "visit" in Auroville; like you would in a regular touristic visit of a city. Auroville is more a place to experience life. You will need to take the time to discover an amazing number of people, all very committed and passionate about their activity, engaged in trying to use their work as a base for their yoga, applying to their best consciousness throughout their activity.
The best start-off is to go to the Visitor Centre where you will find the Matrimandir office (to get your pass to visit the Matrimandir, a very good cafeteria and 3 boutiques of products all made in Auroville, this will give you an idea of the wide variety of articles produced in Auroville.
We are happy to guide you to more specific areas linked with your personal interest. Please ask at the reception of the Guest House.
If you wish to have guided tours within Auroville, you can contact
Inside India (German and English):  (+91) 0413-2622047 or (+91) 0413-2622555
Prayanam Tours-Gopi (Tamil and English): (+91) 9943106597
Veronique (French or English): (+91) 9488512678
Places to visit
You will have here under a short list of some of the activities in Auroville that have a set up to welcome visitors with visiting hours or a show room. You can go on the Auroville website to look for more extensive information.
Things to do
Where to eat?
Please go to Auroville website for more detailed information.