Within the guest house
Yoga
We have a beautiful yoga hall, it can comfortably host 12 to 15 people. You can use the Yoga Hall for your personal use outside of scheduled workshop timings, free of charge, if you are staying at our guesthouse. As a guest of Sharnga, if you are interested to host a workshop or class in the space, we should be notified and charges may apply. To know more about the availability of our Yoga Hall, please get in touch with us via email.
Massage
We have a massage room perched up on the roof top of the gym hall which allows total privacy, and gives the feeling of being amongst the tree canopy. There are various massage therapists with different expertise/techniques with whom you can request an appointment. They will come according to their availability to give you a treatment. The cost will vary according to the treatment and massage therapist. Any charges are to be paid to the therapist directly.)
Gym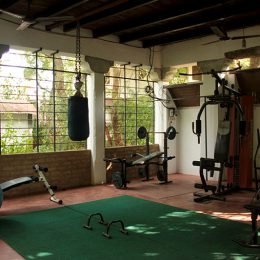 We have a well-equipped gym for your personal use, do request the key at the office. It is free of charge if you are staying in our guesthouse.
HorsetoHuman
HtoH is a natural horsemanship centre that offers Horse-assisted Therapy and bodylanguage and non verbal communication sessions.
Sharnga has always had horses, (add hyperlink: https://sharngaguesthouse.in/sharnga-guest-house/). A passion that began with Bernard (the founder of Sharnga) and is now living on and evolving through Mirrabelle (his 3rd daughter). She is happy  to schedule a time to introduce you to the HorsetoHuman horses and allow you, or you and your family, or your child alone; to have a first-hand experience in interacting with horses and the benefits that come with  being with horses.  Learn how to care for them and all the things that make them horses. Enjoy a real farm-life experience!
She also offers Body Language Courses (How to be effective at communication using Bodylanguage); as well and Equine-Assisted Therapy for children, and Natural Horsemanship sessions.
To make an appointment please contact HtoH: WhatsApp +919626565134/ E-mail: mirrabelle@auroville.org.in/ Instagram: @horsetohuman
Within Sharnga community
Inner Way Tai Chi School
To join their classes you can contact them directly, by writing to them at taichi@auroville.org.in
Within Auroville
You will not have anything typical to "see" or to "visit" in Auroville; we are not your regular touristic city. Auroville is more a place to experience life and unity in diversity.
The best  way to start-off your discovery is to go to the Visitor Centre where you will find the Matrimandir office (to get your pass to visit the Matrimandir, a very good cafeteria and 3 boutiques of products all made in Auroville, this will give you an idea of the wide variety of projects and handicrafts produced in Auroville.
For an extra insight into Auroville, go to (Add Auroville.org hyperlink), where you will find regularly updated information regarding activities, events and projects within Auroville.
You will need to take the time to discover an amazing number of people, all very committed and passionate about their activity. Each, committed in trying to use their work as a base for their yoga, applying to their best consciousness throughout their activity.
We are happy to guide you to more specific areas linked to your personal interests, please come ask at the reception of the Guest House during your stay.
Best way to get around
By bicycle: to rent a bicycle you can go to Town Hall or Visitors Centre to the Cycle Kiosk.
By electric bicycle, scooter or e-motorbike: Kinisi Phone: Mobile: +91 830 046-0679 Email: service@kinisi.in 
By motorised 2 wheeler:ask the reception to coordinate with our external rental partner for you.
If you wish to have guided tours within Auroville, you can contact
Prayanam Tours-Gopi (Tamil and English): (+91) 8300220042 (Subject to availability)
Places to visit
You will have here under a short list of some of the activities and projects in Auroville that have a set up to welcome visitors with visiting hours or a show room.
Things to do
Where to eat?
To find your way to these locations, please use your Auroville Map,  or  Google Maps.
Solar Kitchen – is our Auroville main central kitchen and dining hall. They cater food to all Auroville schools, and prepare an average of 800 meals a day. They do not accept cash payment, so if you wish to eat there, you will either have to pay with your Aurocard, or book and pay for a coupon at our reception.
La Terrace – on the roof top of the solar kitchen. They also don't accept direct cash payment (only through Aurocard or through a pre organized coupon from our GH reception)
Auroville Bakery and Cafe- one of the most popular bakeries in the bioregion, their cafe uses local produce to make delicious food for eating there or take away.
Visitors Centre- the premises of the Visitors Centre has several eateries to choose from which range from vegan to non veg food .
SatChitAnanda – a unique experience of raw food vegan restaurant. (kofpu@auroville.org.in)
Naturellement – Authentic Mediterranean cuisine. All fresh products and selected ingredients. Peaceful atmosphere with garden, court yard and roof seating.
GP Café – south Indian food and meals.
Tanto – Delicious fire wood pizzas, and Italian food.
Tanto Sri Ma – tables under the trees, with access to a swimming pool and to the beach. There is also SPA and playground for children to play. A perfect space to chill, enjoy and take a break while appreciating good food.
Solitude Farm restaurant – excellent fresh food in a very simple environment. Solitude is a permaculture farm. Products are collected straight from the plants in the farm, and menus are planned according to the availability of vegetables. It is a true Farm to Plate system.
Le Morgan – situated in the Town hall, nice "brasserie" food with a fantastic view.
Bread and Chocolate–  A blend of pastries, home made bread, bean to bar chocolate along with healthy tasty nutritious and conscious food platters.
Sustenance farm– South Indian meals made from vegetables from the farm.
Please go to the above mentioned  Auroville website for more detailed and regularly updated information.